Roller granulator for processing ammonium sulfate compound fertilizer
Double roller press granulator has a wide range of raw materials adaptability, especially suitable for the particle processing of ammonium sulfate compound fertilizer. It is widely used in the raw material granulation of compound fertilizer, medicine, chemical industry, feed and other industries. This machine has high granulation rate. It can produce various concentrations and types of compound fertilizer. Roller extrusion granulator, hydraulic roller granulator and flat die extrusion pellet mill are all the hot-selling fertilizer granulators of our company. Our fertilize equipment is exported to many foreign countries.
Characteristics of ammonium sulfate extrusion granulation NPK fertilizer production line
1. The material is forced compressed by mechanical pressure, without any additives, and the purity of the product is guaranteed.
2. Direct granulation of dry powder, no need for follow-up drying process, is more conducive to the connection and transformation of the existing NPK fertilizer production line.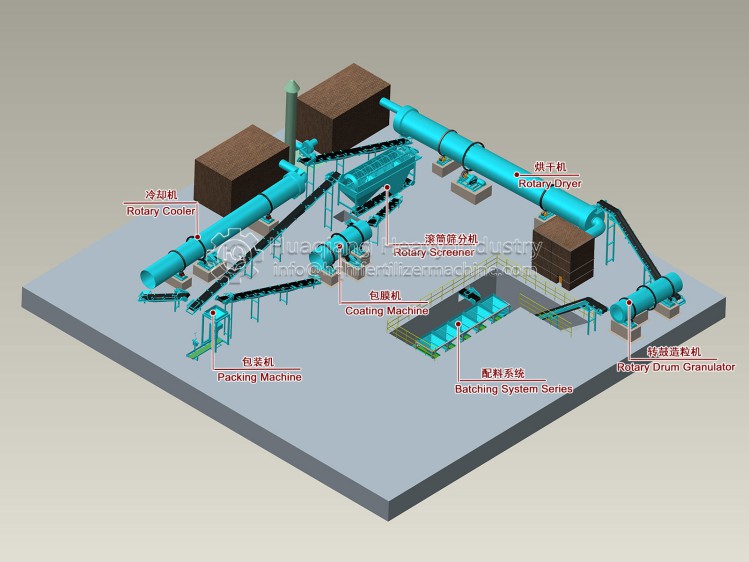 3. The particle strength is high, especially suitable for the occasion of increasing the product stacking proportion. The double roller press granulator is suitable for a wide range of raw materials, and the particle strength can be adjusted freely according to different materials.
4. The machine has the advantages of small area, convenient maintenance, simple operation, short NPK fertilizer production process, low energy consumption and high efficiency. It can control environmental pollution, reduce powder waste and packaging cost, and improve product transportation capacity.
5. The feeding and feeding device adopts the frequency conversion stepless adjustment control, with high automation, which can realize the control of one person and multiple machines, low labor intensity and long-term continuous operation.
We adjust the production process at any time according to the different needs of users to realize the intelligent management and production of granulation process. We adhere to the business philosophy of integrity and truth-seeking, to meet the needs of users with high-quality fertilizer granulator products, advanced technology, reasonable price and excellent after-sales service. Welcome users to visit our factory and negotiate business.